FMCG WHOLESALE VIETNAM SUPPLIER, One-Stop for All FMCG Wholesale Needs in Vietnam
Sunlight Dishwashing Liquid Green Tea Fragrance 400g Bottle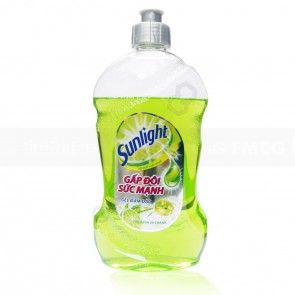 Sunlight Dishwashing Liquid Green Tea Fragrance 400g Bottle
* User:
- Cleaning the grease melts.
- Concentrated, economical and efficient
- Soft leather with hand
- Ingredients: Water, Sodium Sulfonate Linear alkylbenzenes, Sodium Laureth Sulfate, Cocamidpropyl Bentaine, Magnesium Sulfate, Perfume, lemon and green tea extract.
- Direction for use: Dilute the product in water or direct use, rinse the stain and rinse dishes with water.
- Storage: Store in a dry place, avoid direct sunlight
- Note: Do not drink, out of reach of children
.- The Sunlight perfect combo for anti-grease and odour eliminating would be: a drop of magic "Lemon" that catalyzes the toughest grease removal in just one wipe; and an extra drop of "Green Tea" that terminates any unpleasant odour even on plastic, cleaned of bacteria, not harm hands.
- The concentration is more than 2 times higher than regular dishwashing liquid, 1 bottle of Sunlight longer used and washed more dishes than
- Brand: Sunlight- Product of Unilever Vietnam
- Cleaning the grease melts.
Why US?
We work for FMCG Importers
SHIPPING BY SEA
We sell by container loads and shipping to your sea port.
PROFESSIONAL WORKING PROCESS
We have full capacity and expert experience to serve you importers all requests and branded products.
100% GENUINE PRODUCTS
No worry about fake, we only deals with official distributors of international brands & factories.
100% PAYMENT SECURE
We accept L/C at sight & DP, TT Payment Term.