FMCG WHOLESALE VIETNAM SUPPLIER, One-Stop for All FMCG Wholesale Needs in Vietnam
MamyPoko Pants Extra Soft Size L-28pcs (Boy)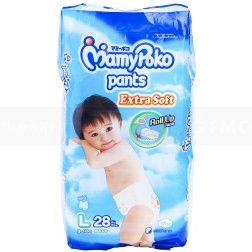 Mamy poko diapers Pants, Mamy poko Diapers extra jumbo, mamy poko diapers Pants Girl, mamy poko diapers pants boy, mamy poko diapers wholesale, vietnam mamy poko diapers wholesale, vietnam mamy poko wholesale, mamy poko wholesale, mamy poko wholesaler,
Mamy Poko Diapers Pants Jumbo Boy (L - 28pcs)
Safety Material
Made from high quality materials according to the Japanese technology, the product is safe for your baby's health when used.
Prevent seepage reverse
High absorbency with the added one special fabric to help keep skin permeability opposite of baby dry for a long time.
Create your baby comfort
Cotton with soft-core superconducting quickly absorbed the entire liquid absorbent, breathable membranes and helps to keep baby's skin dry. 2 double-walled spill the children freedom movement or sleep through the night without overflowing.
Protect your children's skin
Material deodorant, antiseptic, anti-skin rash, and provide needed moisture to the skin of the diaper will strengthen the protection of immature skin of babies.
Storage: dry place, avoid sunlight.
Why US?
We work for FMCG Importers
SHIPPING BY SEA
We sell by container loads and shipping to your sea port.
PROFESSIONAL WORKING PROCESS
We have full capacity and expert experience to serve you importers all requests and branded products.
100% GENUINE PRODUCTS
No worry about fake, we only deals with official distributors of international brands & factories.
100% PAYMENT SECURE
We accept L/C at sight & DP, TT Payment Term.